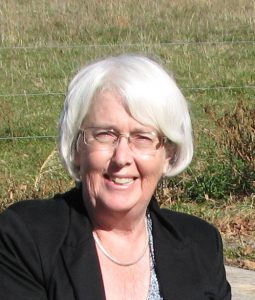 Becky Hatcher Crabtree was born in Bluefield, WV in 1953. She grew up with three brothers and the love of the outdoors, animals, and basketball. Her goal as a little girl was to become a doctor.
She attended Glenwood School, graduated from Princeton High School and earned a two-year degree from Virginia Interment College (now defunct), a bachelor's in PE and Science from Bluefield State College, a masters' degree in gifted education from WV College of Graduate Studies (no longer in existence – do you see a trend here?). She worked on a doctorate at Virginia Tech, presented papers at Oxford University (yep, in England) and became a teacher instead of a doctor.
Her teaching career began in Bradshaw, WV and led to Welch, Princeton, Bramwell, Bluewell, then to the wilds of Monroe County where she settled for a decade before heading north to Alaska. Two decades there in Barrow and Atqasuk then she retired and returned to Monroe County, WV.
Crabtree established an alternative high school in Barrow, the Kiita Learning Community, and coached girls' basketball at all levels. She fell in love with the students of the North Slope and says she "left part of her heart there."
Equality for women and local history are passions of hers, as are her three daughters and four grandchildren. Becky Hatcher Crabtree retired from public school teaching on the North Slope of Alaska five years ago and returned home to Monroe County in southern West Virginia. She lives with hubby Roger on a small retirement farm in the Appalachian Mountains. They have sheep, donkeys, dogs, cats, fainting goats, chickens, and an alpaca. She continues to coach, now at Peterstown Middle School, and enjoys grandchildren and life on her Peters Mountain farm.
Her first book, Alaska Hoops: Tales from the Girls' Locker Room, was published in 2009 by Fathom Publishing Company, Anchorage, Alaska and features vignettes from Crabtree's life as an Alaskan basketball coach in Barrow and Atqasuk. It is a collection of essays about coaching girls' basketball on the North Slope, all first hand and all accentuating the difference in coaching there and in mainstream America.
Drunk on Peace and Quiet, 2015, a first novel begins the Stella and Jones series. It is filled with action, suspense, romance, and wry mountain humor. Awarded the Eric Hoffer Award Honorable Mention in Presses and E-Book Fiction 2016.
Next, Hung over with Grandma, 2016, tells the story of Stella traveling to Alaska to meet the family of Jonas, her brand-new husband. Her new mother-in-law is challenging and comes home with them to stay a while. Her antics keep Stella busy! The book earned the following awards: Feathered Quill Book Awards: Best Woman's Fiction First Place 2017 and Foreword Indies Finalist Multicultural Adult Fiction, 2016.

Interrupting her fiction writing, Crabtree turned her hand to non-fiction to writing a biography: Try and Be Somebody: The Story of Dr. Henry Lake Dickason, 2017. He was born in Lindside, West Virginia, grandson of slaves and ascended to academic excellence and leadership in spite of segregation and racism of the era. Awarded the Indie Books Finalist, African American category, 2019.
In 2018, Crabtree completed the third in the Stella and Jonas series, Pick Your Poison, 2018. Now happily married, Stella and Jonas are still dealing with the constant threat of her brother and the more tangible threats of Mountain Valley Pipeline destroying their farm. It has been awarded the Feathered Quill Book Awards Romance Bronze Third Place and Reader Views Literary Awards: Finalists Mystery/Thriller.
Becky Hatcher Crabtree