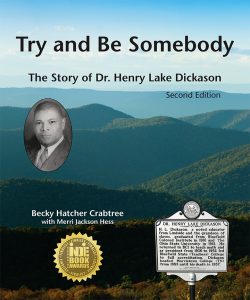 Try and Be Somebody, a biography of the inspiring life of Dr. Henry Lake Dickason, documents the life of the first president of Bluefield State College, Bluefield, West Virginia, and an early 20th century leader of Black education. Though Dickason's remarkable achievements have been largely ignored by history, the man comes to life with this narrative.
Dickason was born two decades after the end of the Civil War and grew up in a log cabin on Peters Mountain near Lindside, West Virginia. He learned about slavery from his grandparents on both sides of the family. All four were slaves, his father's parents on the farm where Dr. Dickason grew up and his mother's parents on a farm at Gap Mills, West Virginia. The life of Henry Lake vividly portrays the lives of the rural Black community of the time. The reader can hear the swing of the cabin door, smell the dinner cooking, and feel hope and sorrows of the family as they live out their lives on Peters Mountain in West Virginia.
Young Henry Lake learned about the oppression of segregation, especially the limited opportunity for black children to get an education, from the struggles of his own life. But he recognized early that education was the key to a decent and successful life. Dickason's thirst for knowledge led him on a transformative journey against formidable odds from a rural agricultural community to an academic world, first at Bluefield Colored Institute, a boarding high school, then to Columbus, Ohio, earning degrees at Ohio State University and becoming the national president of a then fledgling black fraternity, Alpha Phi Alpha. He was awarded two doctorates later, one in a ceremony in which Eleanor Roosevelt gave the commencement address.
Dickason's career in education began at Bluefield Colored Institute in 1914 and was part of the evolution of the school through several roles as it became an accredited college in 1949. His fight to maintain the college and its facilities and to expand the campus to include new areas of study spanned nearly forty years. After retirement there, he accepted the presidency of Morristown College in Tennessee and worked to lead the school until his death in 1957.
He rose quietly above racial inequities and personal tragedies to hold the door open for others to have better opportunities. He became a driving force in racial pride and in ensuring that education was available for all those in southern West Virginia who desired to learn.
Dickason's character has such presence that the reader will make the journey with him, rooting for him and inspired by him the whole way. From his own challenges and successes to the roles he plays in the lives of others, Dr. Dickason lives on in these pages. His life, guided by his father's words, "Try and be somebody," inspires us all.
Seventy-five illustrations, an appendix, and multiple indexes supplement the story.
Second edition available from  Amazon.com and Barnes and Noble
Library, Reseller and Book Club Discounts from the Publisher
This was a very enlightening glimpse into the history of our County. I found it amazing the desire for education instilled in the young people where the access to education was so unavailable. The research required to write this trip back in time is amazing! Nancy R. Kornegay, Regent, Peters Mountain Chapter NSDAR, Peterstown, WV.
This is the fascinating and fast-paced story of the grandson of slaves whose career was devoted to the Bluefield Colored Institute, later to morph from a high school to the Bluefield State College. "Lake" was encouraged by his father, also his teacher in a one-room log school, to attend Bluefield where a high school education was available to black students. Eventually he met a math teacher who encouraged him to work for a degree at Ohio State so he could return and teach, and also to marry her! The story follows the triumphs and tragedies of school work as well as family life at a time when tuberculosis and infection were difficult to cure.
Becky Crabtree has thoroughly documented this historical novel with 55 illustrations ranging from vintage photos, to college archives, to newspaper articles, to handwritten letters. These cover Dickason's entire life from 1886-1957 and talk about his encounters with such diverse notables, as Leontyne Price, Thurgood Marshall, Count Bassie and Eleanor Roosevelt! Also included are the influences of William DuBois and Booker T. Washington on educational philosophy. Dickason's life is set in the border county of Monroe, one of the most beautiful rural areas in West Virginia. Fred Ziegler, President, Monroe County Historical Society
Title: Try and Be Somebody: The Story of Dr. Henry Lake Dickason
Edition: Second
Author: Becky Hatcher Crabtree with Merri Jackson Hess
Publisher: Fathom Publishing Company, PO Box 200448, Anchorage, AK 99520-0448, https://www.fathompublishing.com
Available at: Amazon.com and BarnesandNoble.com
ISBN: 978-1-888215-36-6 (Hardbound)
ISBN: 978-1-888215-37-3 (Paperback)
Number of Pages: 194
Illustrations: 75
Size: 7.5″(w) x 9.25″(h)
Bar Coded: Yes
Price: Hardback $24.95, Paperback $14.95
Publication Date: September 10, 2019