Miss Mary
Mary Beatrice Hargro Ross, my good friend,  passed away the day after her 87th birthday, back in January.  I had known her for nearly forty years. Her health failed suddenly.  Mary was one of the few people still with us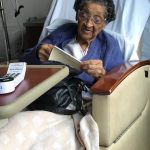 who had known Dr. H.L.Dickason, the subject of my last book.  i will miss laughing with her about the craziness of the world and always comparing what the two of us were having for supper.  She had funny stories and she knew everyone in three counties. Now, I regret hurrying off the phone when she talked for an hour.  I even miss her cat that I hated.  Tom scratched me every time I tried to move him, but she loved hm so.  It got to the point that I send vacation postcards to Mary Ross and Tom.  She laughed a lot at that.  And Tom had certain canned cat food that he liked – one had greens in it.  How many hours did I spend at Food Lion looking for greens for that mean ole cat!? Anyway, she was ready to leave here but my life is a little less because of her absence.
During the preparations for her services, I was fortunate to meet several people in her family that she had spoken of often and got to spend some time with them. It was as though I had known them forever.
Broyles-Shrewsbury Funeral Home
Mary Beatrice Ross
( January 24, 1931 – January 25, 2018 )
PEARISBURG, VA – Mary Beatrice Hargro Ross, of Pearisburg, VA, and formerly of Lindside, WV, was called to her heavenly home on Thursday, January 25, 2018, the day after her 87thbirthday, at the New River Valley Medical Center in Radford, VA.
Born January 24, 1931, at Lovern, WV, she was the daughter of the late William and Minnie Agee Hargro. In addition to her parents, she was preceded in death by her husband, Charles W. Ross; daughter Marie Jeanette Ross; an infant son; five brothers, Other, Everett, Ron, Dewey, and Crump Hargro; and two sisters, Katherine and Fannie Woods.
Mary attended school in Lovern, WV. She was a homemaker, a good cook, and excelled in cake decorating. She also enjoyed fishing. She was employed at the Peterstown Public Library for several years. Mary loved her family and her church. She was previously a member of the Dickason Chapel in Lindside, WV, but she most recently attended Shaver Memorial Church in Pearisburg, VA.
Those left to cherish her memory includes several nieces and nephews and many special friends. Family and friends will serve as pallbearers.
Funeral services will be 11:00 AM on Tuesday, January 30, 2018, at the Broyles-Shrewsbury Funeral Home Chapel in Peterstown, WV, with Rev. Trevor McQuistin officiating. Burial will follow at Roselawn Memorial Gardens in Princeton, WV. Visitation will be 6:00 PM to 8:00 PM on Monday, January 29, 2018, at the funeral home. Online guestbook can be signed or condolences may be sent to the family at
www.broyles-shrewsbury.com
. Arrangements by Broyles-Shrewsbury Funeral Home, Petertown, WV.